Ready to welcome new team members. We are looking for marine techs, maintenance personnel, and seasonal help for our convenience store, restaurant, and dock. Call today for more information!
Marina in Monroe City, MO
Indian Creek Marina offers full or half-day rentals of jon boat, pontoon boat, and tube rentals for a fun and exciting day on Mark Twain Lake. If you have your own boat, keep it covered and secure with a rented slip, ranging in size from 20-52 feet. We're also your destination for boat repair and maintenance! Come visit us today for used boats for sale and more!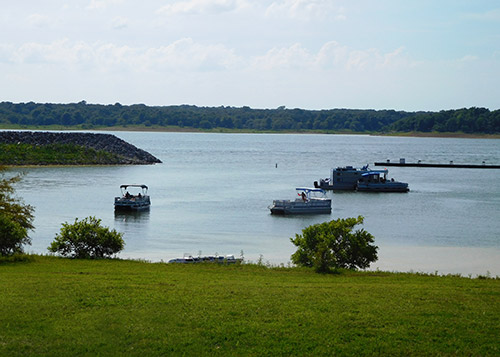 Boating, Fishing and Relaxing on Mark Twain Lake
Mark Twain Lake is your local destination for fun and relaxation, and Indian Creek Marina is here to make sure you've got everything you need to enjoy your time on the lake! We're your conveniently located marina on Mark Twain Lake, offering boat and slip rentals, boat maintenance and wide variety of conveniences, including bait and tackle, food and more! Our marina is the place to start your adventure onto Mark Twain Lake, and we'll do whatever we can to ensure you're having the best time possible. Visit our on-site convenience store to stock up on snacks before you head out tubing, or grab a bite at our restaurant before spending the day in a Jon boat fishing for bass, crappie, bluegill or catfish! We're pleased to offer a full fleet of boats just waiting for you to rent. Each boat rental in Monroe City, MO is available for half- or full-day use, and all of our equipment is maintained to the fullest by certified boat mechanics. If you're bringing your own boat, don't forget to stop by and let us service it before you hit the water. No repair or routine maintenance procedure is too big or too small, and we always guarantee quality workmanship. We invite you to see why locals and people vacationing throughout the region make us a destination when boating season swings in!
We've been serving area boaters since 1986!
We're proud members of the Mark Twain Lake and Monroe City Chambers of Commerce.
We're fully-certified to provide service for Mercury and MerCruiser brands.
Our rentals are available for half- and full-day terms. We also have used boats for sale!
We're nestled in a quiet cove on Northeast Missouri's beautiful Mark Twain Lake!
Enjoy Time on the Lake
Whether you've got your own vessel or you're looking to launch one of ours, our marina is ready to help you enjoy a full-filled day out on Mark Twain Lake. Come to us for bait and tackle, boat sales, and much more!
Serving Mark Twain Lake and the surrounding areas, including:
Indian Creek, MO
Shelbina, MO
Rensselaer, MO
White Bear, MO
Quincy, IL
Bowling Green, MO
Monroe County, MO
Monroe City, MO
Ralls County, MO
Palmyra, MO